Each Book Binding is Done Based On The Needs OF The Content
Finding the right type of Book Binding for your project or book can be pretty exhausting and overwhelming.
The perfect Book Binding Company in Muscat
Book Binding is done for different reasons.
The main reasons and advantages of Book Binding can be as follows.
· Durability

·Security or protection of documents and projects

·The cost-efficient and best method to keep books safe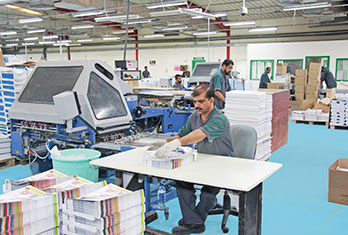 At Mazoon Printing, we offer all these and more services.
A list of different types of Book Binding Practiced at Mazoon Printing
· Wire Style

· Comb Style

· Fastback Style

· Velobind Style

· Coil Style

· Thermal Style

· Pro-click Style
Mazoon Printing has the latest and the best Book Binding machines in the industry. They are considered as the best Book Binding Company in Muscat and Oman. No one can beat the expertise and professionalism of Mazoon Printing.
Some Techniques Using Machines
Saddle-stitching - The easiest of the Technique is Saddle Stitching. The saddle stitching technique is also the most economical of the Book Binding Methods. In this method, the pages of the document are folded and creased. Then these pages are stapled together by machines which are specifically designed for saddle stitching style.
Perfect Binding – Perfect Book Binding is mostly used in paperback and softcover books. This technique is mostly used in catalogs, manuals, and annuals. In this technique, pages are folded into sections and then glued together with a heavier printed wrap-around cover into the spine using a very strong glue or adhesive
Section Sewn – Section Sewn is considered as the most secure Book Binding method. This process is also rather simple when compared to other Processes. In this process, the pages of the document are folded together into different sections. Then each section is then sewn together along the spine. After the sewing is completed the spine is glued together. This provides extra support to the documents. A cover to the document is the last and completing process of this method.
Hard Case Binding – Hard Case binding is also known as Hard Cover Binding or as Hard Back Binding and as Hardbound Binding. This type of book binding is done where a separate hard cover is attached to the document. The cover will be rigid and is further more supported by a paperback board. This makes the document durable. This process involves thread sewing and casing. A casing machine is used to apply a cloth like cover securely to the board with adhesive. This in turn makes a strong rigid hard cover for the document