We have reached a stage where carry bags are more like a part of our shopping life. From grocery to gifts….From electronic goods to medicines we rely on carry bags that are used to carry them. Add a touch of luxury to your product with customized paper bags. Give a personalized touch to your customers with a designed paper bag. From custom printed bags to luxury bags, a wide range of products is available to make customers feel special and more loyal to your brand. Create a unique identity and impression on your customers with paper bags designed for every occasion.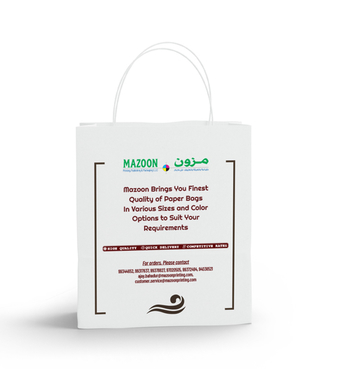 Reasons For Opting Paper Carry Bags
Being sturdy and long-lasting they at the same time are eco friendly. Many consider paper bags as an ideal choice because they are recyclable and reusable. With the latest technologies, we have made paper bags almost replace the non-degradable plastic bags. Paper bags are nowadays considered handy as it can be used for carrying mails, office documents, and even to schools. Today's paper bags are durable and resilient. Customized paper bags are a common technique used by corporates for creating brand awareness, seminars, and promotions. Paper bags have gained a lot of support and popularity as they convey a very strong message of being environment friendly. We are also fulfilling our commitment to our environment by using paper bags that are reusable, biodegradable, 100 per cent recyclable and they pose no threat to nature and wildlife.
Why Paper Bags?
1. Biodegradable - Being made from wood, paper bags are easily biodegradable which saves our environment. By creating awareness about the protection of environment paper bags lessens the chance of leaving a carbon footprint on nature. Convenient – Paper bags come in all sizes and shapes. They are more resistant to tear and wear when compared to plastic bags. They are considered as the perfect convenient takeaway solution. Paper bags are neat, easy to carry, and can pack items very conveniently.
2. Reasonable priced - Paper bags are pocket friendly as they are easy to produce and last long. Paper bags are strong enough for all types of packaging requirements thus reducing the cost of extra packaging.
3. Personalization - Customizing each bag to the customer needs, we add a personal touch and improve the bond between customer and client. Adding luxury to bags is a certain way to attract more customers. Create your own style with paper bags. Make a truly unique style with paper bags by adding rope handles or matt lamination, ribbon, or a printed interior. Be trendy with your business and customers.
4. Wide range of selection - Depending on the client needs, paper bags can be produced based on size, shape and colour and design.
5. Promotion of products - Branding of product logos and designs on paper bags acts as the perfect platform to advertise your product.
Since our humble beginning in 1968 Mazoon Printing has expanded to be one of the largest Packaging and printing companies in Oman. With an expert team and latest technologies that are regularly upgraded to maximize productivity, Mazoon Printing excels in all types of digital printing services. Mazoon Printing believes in serving every client at the most affordable price. Contact us over phone or mail to get the best and most competitive rates for Offset Printing and packaging.