Pre Press – The term pres press is usually used in the printing and publishing industry. It's the process that happens between the creation and final printing.
Mazoon Printing Press in Oman is one of the leading companies which is fully equipped with all the latest machines. Having a long history and experience in the printing world, Mazoon Printing press in Oman is always a step ahead of its competitor.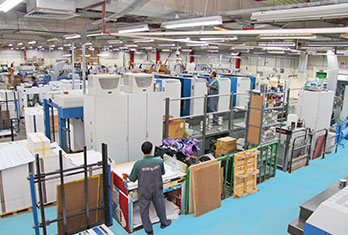 Let's Have a Glimpse Of What a Fully Equipped Prepress is All About
The process after the creation of a print layout to the final printing can be termed as Prepress. This process mainly includes the following steps.
· The manufacturing of the printing plate.
· Creating an image carrier or form.
· Getting the printing press ready to be mounted on a printing press.
· Calculated adjustments and modifications of the image and/or text of the high-quality file.
The Evolution Of Prepress
Prepress is a complicated process and there are many steps in prepress. Let us go through some of the steps which are considered as part of the prepress at some point of time throughout the history of printing
Typesetting - It's the process of presenting a presentation of textual material to paper.
Copy-Editing - An editor is a key person in copy editing. The work done to improve the style of formatting and correction of the content can be termed a copy editing.
Markup - An artificial language that gives instructions on how a print should be displayed is markup.
Proofing - In simple terms, proofing is the process of creating an accurate facsimile of the artwork before it gets printed.
Proofreading - Checking content to detect any errors and correcting it Screening.
Imposition - A combination of many pages into a single signature form.
Separation - Separation of text to be put on plates applying individual printing to a common print.
Computer to plate - Shortly known as CTP is another process by which an image can be transferred to a printing plate.
Creating PDF - Manufacturing of a high-quality print.
Planning - Final decision of paper.
Prepress has also evolved along with time. To be on the same footings, Mazoon printing press in Oman has also evolved through time. In today's digital world the prepress is electronic. The result of the printing may be in a PDF format or other similar application files.
Applications used to create an electronic form of delivery
There are so many applications that are available in today's electronic and digital market which is widely used to create an electronic form of delivery to customers. Mazoon printing press in Oman is also using all these applications to make a faster and easier mode of transferring data of a print.
The main applications used in the printing industry are:
· Quarlxpress

· Adobe InDesign

· Scribus

· Adobe Illustrator
Customers are always welcomed at Mazoon printing to get their idea printed. We are sure to create a work of art with your idea.