ISO 9001 -20015 CERTIFICATION is an internationally recognized certification that ensures the quality of products and services of a company. ISO Accreditation is held at the highest degree when it comes to companies.
Mazoon Printing Publishing & Packaging - The Complete Printing Solution in Oman with high-quality printing machines, is always trying to better themselves in every step of the way. So if you have a printing requirement, where else to go than Mazoon. The customer-friendly designers are always happy to assist you in all your printing requirements.
And now it's an ISO 9001 CERTIFIED company – Mazoon is a Packaging and Printing Company in Oman which is well organized in all their different platforms of printing. The accurate colors of the prints are the result of a well-coordinated team works.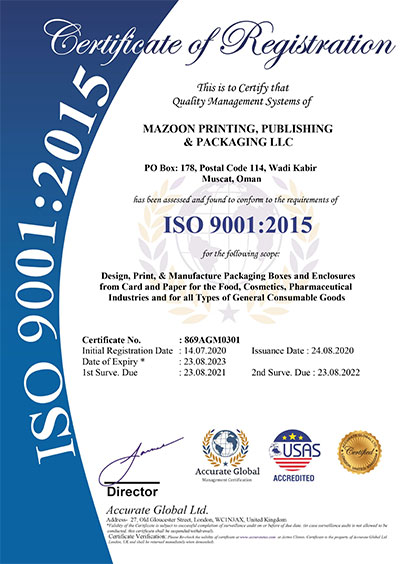 Benefits Of Having An ISO CERTIFICATION
Having an Internationally recognized Certification always improves the standards of a company. Let's have a quick look at some of the benefits of having an ISO CERTIFICATION.
Increased Recognization and credibility.
ISO 9001 is a certificate which is issued by The International Organization for Standards. ISO 9001 Certificate is accepted all around the world. It's a worldwide accepted certificate. Having this certificate always increases the value of a company when compared to its competitors. This certificate also increases the status of a company among the clients.
Improvement in Consistency
Increased consistency is always beneficial to clients. The customers can be assured that they get the same high-quality service or products each and every time they do business with a company. An ISO Certificate helps in controlling the business. And the more control over a company, the more the constituency increases.
Increased revenue flow
Having an ISO Certification means, A company has been tested for quality, and all the results have met all the criteria required to pass the evaluation. An ISO Certification can always be advertised among clients to bring confidence in your company and prices for your product and services can be revised accordingly.
Empowerment of employees
Maintaining the quality of service and product is essential to achieve an ISO CERTIFICATION. Frequent training is mandatory to attain the perfect quality and services you provide. As a result of this training, employees get to be more knowledgeable in their respective fields and can improve their careers.
Increased Customer Satisfaction
As a result of frequent training, the quality of service and products will always be high. Customers can avail all these services knowing that the quality will always be on the higher side. They can be sure of your services and products. This always produces more and more happy customers and fewer and fewer complaints.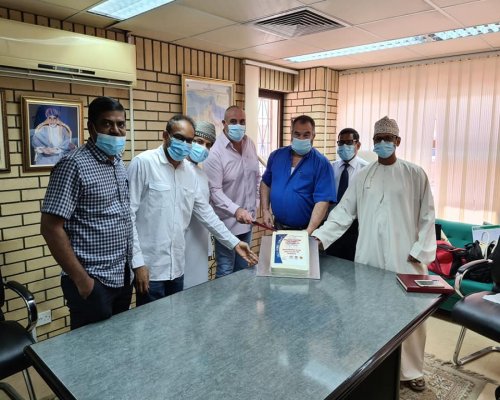 Mazoon has different types of printed products.
A list of some of the Printing Services in Oman is given below.
· Paper Packaging

· Books

·Educational Books

· Leaflets

· Flyers

· Magazines

· Catalogs
So get to know more about Mazoon Printing – The best Flyers Printing Company in Oman.