It's an old saying that "You can't judge a book by its cover". The same can be said about the interior of a book. The visual elements of a book play a vital role in determining the reading experience.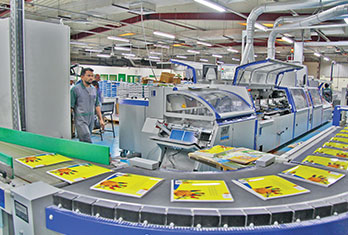 The Modern Techniques of Designing and Typesetting
Role of Designing and Typesetting
The arrangement of texts and images can be described as Typesetting in short. It takes a professional to set these arrangements in a pleasing way to improve the readability of the book.
Mazoon Printing press in Oman has a group of talented people who have got the trained eye which makes the Typesetting ad designing effortless.
Let's look at the main ingredients which Mazoon Printing Company in Oman uses to make the perfect blend of typesetting. These are what make Mazoon one of the best Magazines Printing Company in Oman
· Size of the type.

· Font of the type.

· Quality illustrations.

· High definition photos.

· The type of computer file.

· The placement of texts and images.

· The color of text and images.

· The type of paper.

· The trim size of the book.

· Alignment of the margins.

· The amount of ink.

· Other decorative elements.
The implementation of these under the best artists and technicians is what that makes Mazoon Printing the no#1 Digital Printing Company in Muscat.
The Latest Software used in Mazoon Printing Services in Oman
At Mazoon Printing Services in Oman, it's always the latest and the best which is used in every step of the printing process.
Mazoon Printing Service in Oman uses modern software and application to stay ahead of their competitors.
The company uses software's and applications like: -
· Scribus

· QuarkXPress

· Adobe InDesign
The strategic creative solutions developed by the motivated and innovative artists of Mazoon Printing Service in Oman makes all the documents printed by them look unique and beautiful.
Mazoon Printing service in Oman goes over and beyond when it comes to creating the perfect book or documents for their clients. Their creative group learns what there is to know about the process and then break the rules to create That Perfect Unique Document or Book.
The artistically minded crew of Mazoon Printing Company in Oman is always ready to sit and discuss with the client to get even the last drop of the idea they have in the design the client has in mind. The crew is very customer-oriented and is even willing to burn the midnight oil, just to design a document or book that stands apart and catches the eye of the viewer.
It's always easy to get in touch with the number one Printing Service in Oman. Just visit their website or give a ping or even better visit Mazoon printing service in Oman in person and print the dream document.